Do you webcast your meetings or events?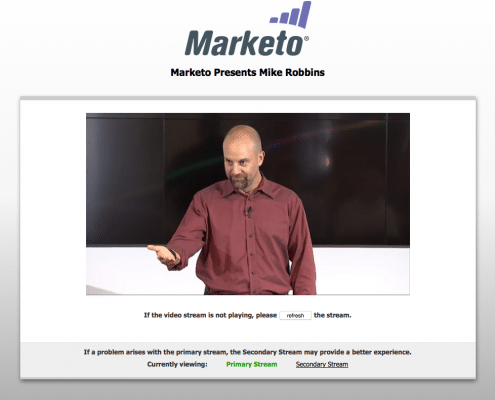 Your workforce across the country, in Europe, Asia, and beyond can join in live for quarterly reports, or executive announcements. Webcast live and have an archive of the webcast for convenient on-demand streaming in the Media Portal we provide with every webcast.
Share your message with confidence. You choose the audience and the control the access. 
Webcasting any company meeting makes sense. Our Media Portal and webcasting services make it easy.
How do you produce a Live Webcast?
ICV will manage the event details with your event coordinator and In-house A/V team. We can provide the onsite A/V equipment and services as well. We setup our equipment and hook into your onsite Broadband internet connection. We then live webcast and record your entire conference using HD cameras. We gather content from your presenters and flip synchronized PowerPoint slides alongside the video stream. We stream this to your video player in your Media Portal, branded to your specs,  with the video player features you need, secure, public, however you want it.
We host the the streaming video during the event and after the event in a webcast portal where the content can be accessed on-demand later, if you purchased that module. We can also webcast from our San Jose / San Francisco Bay Area Broadcast Center sound stage – video studio.
Our innovative process helps conference groups, companies and associations maximize their marketing HR and training dollars with streaming video during, and after the event. Associations can add membership and attendee value with Live and archived webcasts. Corporations of all sizes can consolidate and share critical internal information globally very cost effectively with an on-demand web library of content. Healthcare, Med Device, Pharma and Tech companies can securely share and maintain control of a single portal of scientific and medical presentations and information.
With your branded Media Portal webcast platform as a web destination, you'll market to your customers, and share with your members or workforce in real time. Manage and publish content for your one-time or recurring events. Or just share with the public and build your following as a leader. This means increased recurring income and cost savings to you, and great value for your attendees, members, customers and for your corporate workforce.
Quarterly Meeting Webcasts
Quarterly Shareholder meetings are similar to a Townhall Meeting. With a Townhall Webcast, information is quickly and easily shared across the globe to viewers cost effectively.  Online audience questions. polling and participation via the webcast can take place. Often the presentation includes Powerpoint slides which are webcast simultaneously with the video webcast. You want the slides to be in sync with high quality video so that an online viewer gets the same experience that a person in the audience at the event gets. An online streaming archive of the webcast provides reference for later on-demand viewing.
All Hands Meeting Webcasts
TownHall Business Meetings are often called All Hands meetings or Panel forums. We produce Townhall Meeting Webcasts from a variety of locations. Large conference rooms, corporate cafeterias, hotel conference centers and ballrooms. The names "All-Hands" or "Townhall" meeting are used interchangeably. A Townhall meeting typically includes more Q&A than an All-Hands meeting where a single key topic, often of a financial nature, is discussed.
Point to Point Webcasting
Our superior video and web-based process offers the option of Point-to-Point webcasting with screen-sharing with presenters at multiple locations. If you can't organize or don't wish to have a central location for the presenters, Point to Point webcasting works very well. A moderator can hand off control to hosts at the various locations. Questions and responses are moderated. Participants in various locations can ask questions of the presenters and interact with each other . The moderator leads the webcast from location to location virtually, managing the participation and then managing a summary at the end. Everyone sees what's happening in all locations on one screen.
What are the benefits of Live Webcasting?
ICV Live Event Webcast services deliver increased attendance and engagement, broader audience control, higher organizational satisfaction with the messages you share, greater capacity and convenience for viewers and presenters. If it's in your model to sell your content or access to it,  you will see higher revenues.
Eliminate travel time and expenses. Provide worldwide webcast access to users that would not or cannot attend in-person. Provide  on-demand access to video streaming training. Create sponsorship opportunities. Build a social webcasting community by offering virtual webcast participation with community chat, synchronized slides, and document sharing. Our clients lower their costs, and if it's in their model, they increase revenues by using our Live Webcasting services platform to sell access. Townhall Webcasting is Simple, Easy, Secure.
How much does a Townhall Webcast cost?
Cost varies  based on the locations themselves but ICV has an all inclusive, affordable Live Webcasting Service averaging around $6250.00 for COMPLETE services including the website, player, streaming, hosting, gear and crew. All we need is an internet connection. And if you don't have one we can bring our own. Get a Webcasting Quote here.
Our mobile production Video Flypacks allow us to be ready and onsite within hours if you are local to us and need webcasting in the Washington DC area. We are expert at traveling and have webcasting crews in not only the United States but in Europe and Asia as well. This year alone we have produced live webcasts from England, Brazil, Germany, Japan and all across the United States. We have dozens of local webcasting clients in the Washington DC area, but we are expert at traveling anywhere to produce on-location live webcasting. Our equipment is designed for travel.
To learn more about global webcasting visit our conference webcasting website at www.conferencewebcasting.com