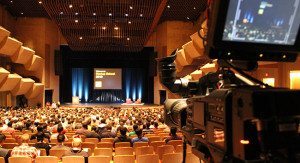 Give us a call. We're happy to answer live webcasting questions. 800-272-3070
ICV Townhall webcasting services include:
All Staff before, during and after the event
Pre-webcast testing and any required pre-production
Unique web address URL for your webcast event or portal if needed
Unlimited number of live webcast webinar participants
Complete access control of your webcast
Branded Web pages and portals as required
Live Video webcast interface player with Synchronized PowerPoints during the Live webcast
Speaker photographs and session descriptions with video streaming
Live Q&A, and deep reporting for immediate feedback
Archive of the webcast at the same Media Portal website we build exclusively for your event.
Full service live webcasting company in Washington DC
When looking for a live webcasting company in Washington DC, demand a full service partner. ICV's Live Webcasting options range from simple single session webcasting to full scale conference webcasting to corporate townhall webcasts to press releases. We can webcast simultaneous breakout sessions and general sessions, within a branded Media Portal website. You control and manage your content. ICV will work with you on your event and on your web and IT services to help reach your target audience in the most efficient manner.